Tracklist:
---
Review:
---
Riad Timila may not be the largest of the Riads in Marrakech's bustling medina but it has one of the largest hearts. Situated at 135 derb Djid in Marrakech, Morocco, this charming and beautifully appointed 6 bedroomed gem is the picture of peace and tranquillity.
Service excellence is a hallmark of this Riad and brothers, Ismail and Brahim as well as sisters Henia and Radisha have been there since the beginning, part of the Timila family. Guest are welcomed like family and Brahim remarks upon Timila being like home in that it has an elegant simplicity and warmth that immediately makes one feel at home. Upon arrival, My husband and I were led to an ambient reception room with roaring fireplace and steaming cups of Moroccan mint tea accompanied by delicious sweet treats and met our gracious and lovely host Grace Elliston, daughter of Victoria, the owner.
Timila was refurbished, engaging the craftsmanship of local artisans who created this beautiful house in the heart of the medina and Jonathan, co –owner and art lover, ensured that Timila is home to a number of beautiful pieces. Art which was once part of the Marrakech Biennale, happening at the time of our visit, adorns the walls and there is art from local artisans and a collection of beautiful ornamental 'Hand of Fatima', a good luck emblem and sign of protection, given by guests and friends who have visited.
6 romantic, luxurious bedroom suites make up the Riad, each with a unique character and feel, along with a number of ambient and stylishly decorated spaces, terraces and relaxation areas. The rooftop terrace is the perfect place to catch a golden sunrise or sunset and enjoy some delicious meals, lovingly prepared by the in-house chef Henia and offers 360 degree views of Marrakech which include the majestic, and in March, snow-capped, Atlas Mountains.
The service is superb and no task too large or too small for Ishmael or Brahim, whether its lighting a fire for our room in the wee hours or walking us all the way to the local square to make sure we find our way. Jmaa el Fna, the main square, souk or marketplace in Marrakech is a 5 minute walk away and the perfect place to bargain for great deals on beautifully crafted Moroccan handcrafts such as their intricately crafted filigree lamps. You can also enjoy a breakfast of an egg roll and freshly squeezed orange juice for 10 Dirhams!
Speaking of food, the culinary fare at Timila is legendary and the subject of many a rave review. Breakfast is a combination of Moroccan pastries, fruit salad, yoghurt, scrambled eggs with bread and pancakes, fresh orange juice and coffee or tea and it's recommended to take it up on the rooftop at sunrise, taking in the city's unique skyline.
Lunch at Riad Timila is a variety of light Moroccan salads and fish whilst the salads come with a tagine, the national dish, of your choice for dinner. Fresh fruit or Moroccan desserts are served with both lunch and dinner. The meals come at a reasonable 50drh, 150drh and 200drh per person respectively and there is an honesty bar stocked with soft drinks, local wine and beer.  It's good to know that all of their food is organic and sourced locally from country farms, hence pesticide and chemical free, adding to the delicious taste of the home- prepared meals.
Timila's environmental and social consciousness extends to the ways in which they give back to the community to support the people and country of Morocco.  Even as a smaller Riad, they are committed to supporting their local team in as many ways as possible and find ways in which to contribute and improve their lives. During the construction of the house, local craftsmen were commissioned to make the majority of pieces which now fill it such as lights, fabrics and rugs and the house and ceilings were built by hand using old materials and tadelakt and all constructed by local builders. Only organic products are used in the hammam and for massages and the Argan products made and supplied by local women's collectives. Timila recycles, using as little plastic as possible and there are solar fairy lights illuminating the roof. Much of the table and bed linen has been bought from the blind women's collectives in the souks. Home to two tortoises, fish and lots of birds living in the bougainvillea, trees and plants on the roof and it's not unusual to be woken by a delightful birdsong symphony.
Riads such as Timila and others like it, show ways in which a conscious effort is made to invest in the local community, uplifting, supporting and creating work here, which in turn allows their employees to support and empower their families. Supporting these and other Riads like it allows them to continue doing just that, demonstrating that a small Riad with a big heart can make a difference in the lives of those communities in which they exist whilst doing what they do best- providing a beautiful, tranquil, romantic haven for travellers in the adventurous, exotic, mysterious Red City at the foot of the Atlas Mountains.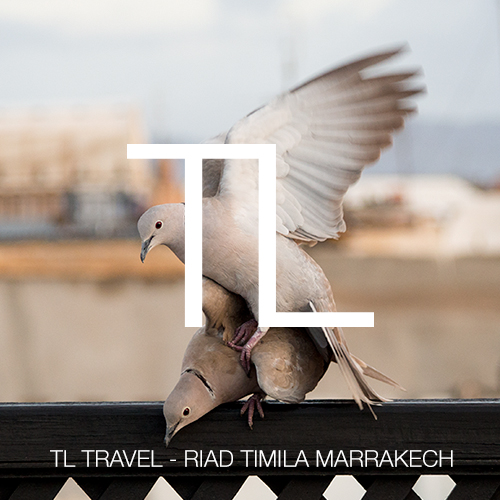 Release:
---
Buy On: Online shop /
Label: Thought leader Global media
Release Date: 2016