Tracklist:
---
Review:
---
THOUGHT LEADER – THE BRIDGE:
CAPE TOWN: Nelson Mandela Day – The Bridge Collaborating partners: Norwegian Embassy in South Africa, Ambassador Trine Skymoen, Innovation Norway South Africa, Oslo Trend, Luxury Africa, Ahmed Kathrada Foundation, Legacy Collection by Charmaine Taylor, RIACT – Robben Island Art Co. and Trust, Chris Swift, AOE Age Of Enlightenment, Adrian Kuiters + Jody Paulsen, Mark Cameron, Agent Emma Buckland, Fjords Productions, Boss Models SA, Full Circle SA, Super Nova Creative Management, Thought Leader Consulting, Seelans Restaurant and Bar, Beluga Restaurant, Wild Olive, Simonsig Stellenboch, Eastern Accoustics, Coza productions, Destination Africa, Incredible Events PR and Communication, Bella Destination, Vivid Luxury, Denzil Jacobs Photography
All Video footage by COZA Productions for POP Report SA Recorded on 18 July 2015 at Luxury Africa Atelier in Cape Town South Africa
OSLO: The Collaborating partners:
South African Embassy in Norway, Ambassador Queen Anne Zondo, Oslo Trend, EB production, Legacy Collection, AOE – Age Of Enlightenment, Junkyard, Chris Swift – The pen is mightier than the sword (46664), EB models, René-Charles Gustavsen, Bumble and Bumble, Aveda, Tommy Løland, Charmaine Taylor, Sara Fosstvedt, Nosizwe, Jankeh Lion Njie, Destination africa, Panthera Africa, Zulufadder, Norwegian Association of Jewellery Design, Engelstad, R&R Wines, Winning Brands, Interbev, Creation Wines, Phantera Africa Wines, Amarula, Distell, Chill Out, Robertson Winery, Anthonij Rupert Wyne, Mullineux Wines, Tore Oddvang.
Filmed by filthy frames foR Oslo Trend TV – OTTV in Oslo, Norway 21 and 22 August 2015
Edited by Mikkel Aakervik For Thought Leader
2015 TOUGHT LEADER
Thought Leader TV presents The Bridge
Cultural meeting Cape Town – Oslo
18. July 2015  Nelson Mandela Day
The Bridge event Cape Town
The Bridge was recently launched in Cape Town, South Africa on Nelson Mandela Day 2015, where people are encouraged to donate 67 minutes of their time to a good cause in honour of the 67 years of his life which Nelson Mandela contributed to public service.
Officially endorsed by the Norwegian Embassy in South Africa and Innovation Norway, The Bridge represents cultural, trade and creative collaboration between two countries and continents, Norway and South Africa and Europe and Africa. At the launch, hosted by Luxury Africa Atelier, we presented Oslo Trend, Charmaine Taylor's Legacy Collection, artist Chris Swift – 'The Pen is Mightier Than The Sword' Installation, AOE Age Of Enlightenment Scandinavian ethical clothing label and Ahmed Kathrada´s new book – Triumph of The Human Spirit: Ahmed Kathrada and Robben Island.
The Bridge also represents connection and creating paths of awareness and understanding between concepts, people and places.
Our event partners gave generously of their time and services, surpassing the stipulated 67 minutes, and contributed to a sparkling and magical event.
Collaborating partners:
The Bridge Cape Town:
Oslo Trend – Luxury Africa – Norwegian Embassy in South Africa – Innovation Norway South Africa – Ahmed Kathrada Foundation – Legacy Collection by Charmaine Taylor – RIACT – Robben Island Art Co. and Trust – Chris Swift – The Pen Is Mightier Than The Sword – AOE Age Of Enlightenment – Seeland Restaurant and Bar Beluga – Wild Olive – Simonsig Stellenboch – Eastern Accoustics – Thought Leader Counsulting –
Destination Africa – Incredible Events PR and Communication – Bella Destination – Vivid Luxury – Denxil Jacobs Photography.
21. August 2015 Womens day and Oslo Trend
The Bridge event Oslo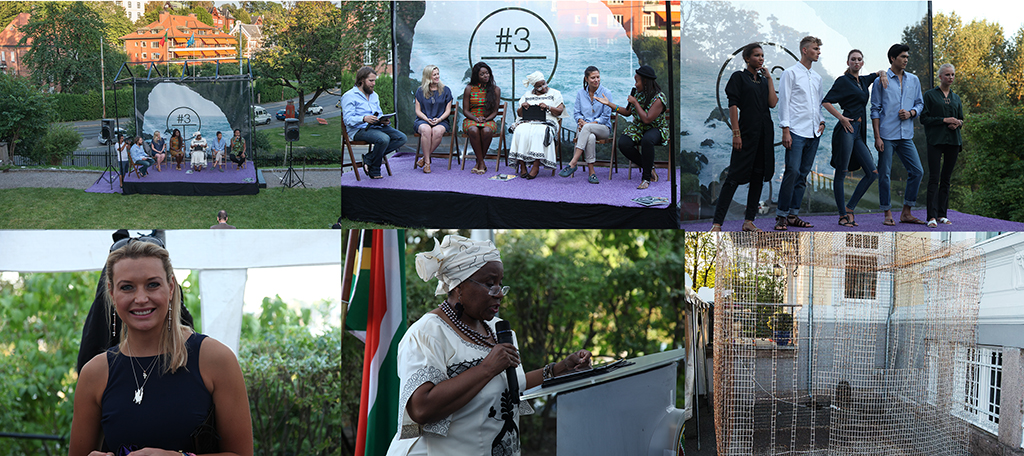 The South African Embassy in Norway and Oslo Trend 2015 presented an event on 21 August 2015 as part of South African Women's Month Celebrations and under the Official Oslo Trend 2015 Program. It was a meeting between creatives in fashion, art, music, film, food and travel which included a presentation of South African food and wines and the 2015 edition of Oslo Trend Magazine was launched with 26 pages dedicated to South Africa. Oslo Trend began a cultural bridge between 2 countries and 2 continents in 2014 with a Norwegian and South African clothing designer with a presentation both in South Africa and Norway. This event comprised a panel discussion featuring South Africa's Ambassador to Norway, Her Excellency, Queen Anne Zondo, Charmaine Taylor of Legacy Collection – bespoke jewellery made from the original prison fence at Robben Island, Sara Fosstvedt of Age of Enlightenment (AOE) sustainable clothing brand, Jankeh Lion- Njie, a young Gambian- Norwegian designer and founder of Jarga Fashions and Nosizwe Baqwa, Nosizwe, an acclaimed artist and self –described South African Norwegian. The South African food and wine presentation was complemented by an exhibition of artist Chris Swift's Installation 'The Pen Is Mightier than the Sword' a made to scale replica of Nelson Mandela's Robben Island jail cell made from the original prison fence at Robben Island. Around 250 invited guests sampled the South African fare and enjoyed a fashion show featuring models from EB Models showcasing Legacy Collection Jewellery, Denims from Junkyard and AOE shirts. The evening ended off with guest dancing to the sounds of Miriam Makeba and Hugh Masakela in the Embassy Gardens.
Interview with the artists: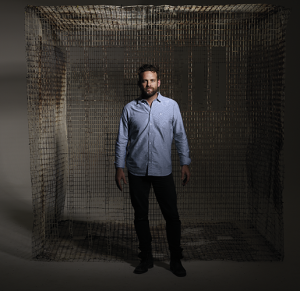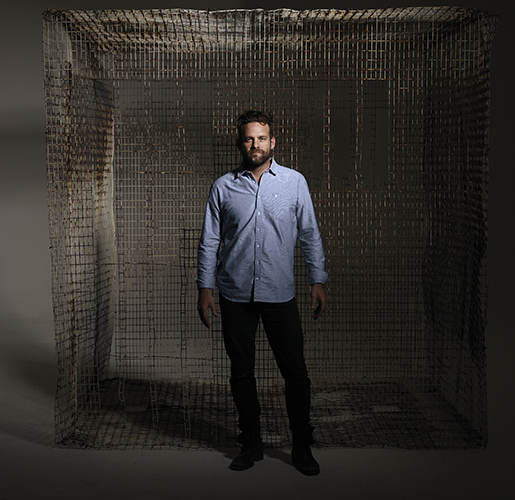 Christopher Swift
His installation ' The Pen is Mightier than the Sword' illuminating the recent launch of The Bridge in Cape Town, artist Christopher Swift is inspired by the prospect of a bridge to the North quoting 'Origination', 'Inspiration and Serendipity' and revealed that the work emerged from the discovery of this rather historically unique artifact, the original Robben Island Prison fence, which was in the process of being discarded as part of the UNESCO World Heritage Site's upgrade in preparation for the 2010 FIFA World Cup. 'It's the maximum security fencing within which Mandela and other significant political prisoners of Apartheid were incarcerated and then liberated from. 'The work itself is quite simple but it accesses something profoundly more complex. Historical complexity, ethnic complexity, political complexity, socio-economic complexity, even future proofing complexity in this land of beauty, contrast, loss and potential.'
According to Chris, the teasing between the two kinds of 'Pen' in the title vacillate between the power of the written word and the penitentiary. 'On a visual level, the work really comes to life in a backdrop of greatest darkness, much like Mandela and the emergence of our Rainbow Nation. What strikes most people is the tiny space that Mandela was subject to for 18 years on the Island demonstrated so rudimentally by the to scale 'cage'.'
A theme of Oslo Trend Magazine 2015 is sustainability and Chris is known to create art from so-called ' junk' and found or discarded materials. 'One man's junk is another's treasure' he says, 'and in nature, there is no waste, everything is part of a greater cycle. If there is an over- arching message he emphasizes, is that he wishes it to be that there is potential in everything if you're willing to look for it and invest in it.' This belief is particularly necessary in a developing economy. South Africans need to believe the potential in themselves and their country too. We must understand that we have a unique and relevant value for the world.'
'Healthy debate, discourse, conversation, differing views is essential to a maturing democracy and blend of diverse cultures, backgrounds and ambitions. Much of the media has South Africa stuck in the negative and sensational and I believe positive messages and ideas of Hope, Inspiration, Innovation and Aspiration are necessary for a robust sense of consciousness and positive attitude toward our future as Africans.'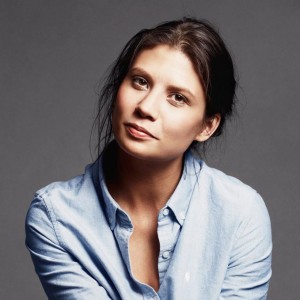 Sara Fosstvedt
Sara Fosstvedt is one of the founders of The Scandinavian design collaboration, Age of Enlightenment or AOE which is known for its ethos of sustainability built around progressive values.
The message AOE wishes to send to the world is to think and act sustainably, says Sara, and to buy less and make it last and know where your products are coming from. Some AOE pieces are named in tribute to people who have contributed to making the world a more enlightened place, such as Savitribai Phule, the first woman to open the first girls' schools in India.
AOE use solely natural and sustainable materials in factories that carry both Fairtrade and GOTS certifications with the majority of collections produced in Bangalore, India.  After getting to know the conditions of The Fashion industry, which Sara names as the second worst industry in the world when it comes to environmental impact and social conditions, AOE decided that Fairtrade and Organic materials were the only solution and to be the change the industry needs. 'Organic cotton means no pesticides or GMOs, which are very harmful to the environment, the people working with the cotton and as well the end user of the textiles and Fairtrade means that the workers and farmers get a living wage and a premium.'
AOE's message behind their Peace Cone Label which uses a pine cone granite as its logo is that people should spread the seeds of change, get inspired to get involved in topics regarding human rights and environmental protection.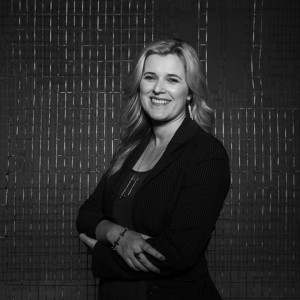 Charmaine Taylor
Charmaine Taylor creates beautiful bespoke jewellery and art made from the original Robben Island Prison fence and her journey started when her friend, the artist Chris Swift rescued the original Robben Island maximum security prison fence in 2009 and Charmaine shared his vision of the fence becoming a positive part of South Africa's past, through art sharing the miracle story of South Africa and our road to Democracy.
Each part is bespoke which involves a lengthy design process of cutting, bonding, sealing and plating and Charmaine cut up her first range by hand in 2013 with a very old pair of pliers given to her by her mother, leaving her hands bleeding and bruised. 'I started creating artwork out of the fence in 2013 and loved that you could have a beautiful wall piece on your wall, but I wanted to make it even more personal and to be able to carry the art around with you every day, so created my Legacy Collection Jewellery in July 2013.' says Charmaine.
'Art is a universal language that everyone around the world can relate too. We all carry scars and past hurt, and through my art I believe the South African story of Peace, Forgiveness and Transformation can be told. I believe my art and jewellery is going to free many people when they wear it due to the symbolism and power of the overcoming of the human spirit. Each piece is named after our miracle road to democracy and there is power in a word. '
'My goal in Legacy Collection is to never let the story of South Africa be forgotten, the miracle road to democracy, the rise of power of the amazing man Nelson Mandela and to be a testimony around the world of how peace and reconciliation can be achieved. My art is a symbolism of once a past which was gritty and deteriorated is now covered with love and grace, where we can still see the scars of the past in South Africa (symbolised in the rusted texture of each piece) but each scar is beautiful when covered with love and grace (gold and silver). Giving back is the main aim in Legacy Collection as employment and skills development still remains a major issue in South Africa. This has always been close to my heart to be able to empower people and to also understand our diverse cultural differences.'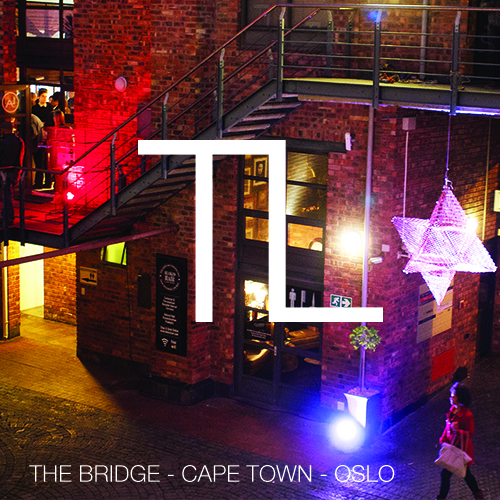 Release:
---
Buy On: /
Label: Thought Leader Global Media
Release Date: 2015