Biography
---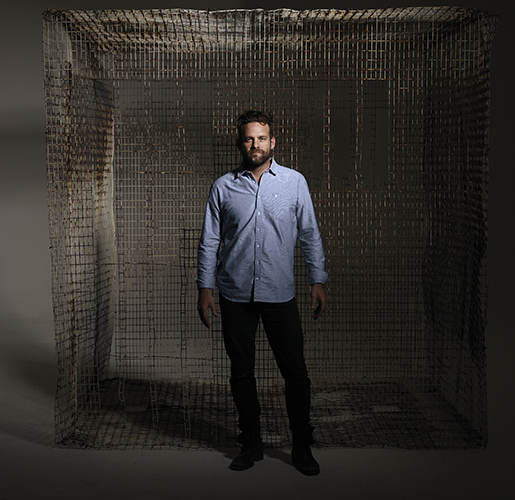 CHRIS SWIFT
A Thought Leader is by definition an individual who moves and inspires with innovative ideas, and is recognised among their peer mentors as a futurist who demonstrates the confidence to promote and share those ideas as actionable, distilled insights, knowing and showing how to replicate their success.
As a notable and sometimes controversial artist, and founder of the Robben Island Art Company and Trust, Chris Swift is someone who lives outside the box, who is not afraid of pushing boundaries and buttons, as evidence by various responses to some of his installations. One installation which sparked such debate was the Sunstar, an imposing 24-metre high metal structure on Signal Hill and part of the Cape Town World design Capital programme, which was erected amidst a heated public debate about the value of outdoor art installations and the 'shrewd commercialisation' of the Robben Island fence used to erect it.
The eight-point star contains a sphere in the centre, made from 80 sections of Robben Island prison fencing encased by an aluminium frame which are illuminated by solar-powered LED lights, and supporting flood lights, which make it impossible to miss and also highly sustainable. The artist welcomed the critique, saying art is all about criticism and conversation and that healthy debate, discourse, conversation, differing views are essential to a maturing democracy and blend of diverse cultures, backgrounds and ambitions stating 'I believe positive messages and ideas of Hope, Inspiration, Innovation and Aspiration are necessary for a robust sense of consciousness and positive attitude toward our future as Africans'.
Chris Swift is a deep, complex, layered and thinking individual, whose prose is intriguing like his art, answering questions with answers which are like enigmatic riddles in their depth and complexity, and like his art, invoking further exploration, debate and reflection. Chris Swift is at the same time bold and unafraid to fight the good fight for and through his art.
There is potency in the power of art as storytelling and activism and as a means to keep legacy, history and story alive and relevant to new generations and new audiences, to carry it forward and use it as a tool to create awareness and foster healing.
Working often with found or discarded raw materials, things that society has discarded, and specialising in installation, Chris' work makes strong statements about sustainability and offers new perspectives into old paradigms, turning ideas on their head, provoking debate and dialogue, invoking curiosity and commentary, prompting questions, raising consciousness and conjuring hope.
Chris quotes his work Zodiac, at his second solo show in 2013, as demonstrating a development in his mode of working and thinking. 'Less recycling by random collection' he states, 'and more interception of object that could suite the message, although the props that made up the installation were in themselves a re-use.' He cites a distinction in the development of thought toward our environmental 'doomedness', toward perhaps a necessary acceleration toward a paradigm shift that is possibly not achievable without the immense pressure that is building, which doesn't condone the damage and challenge, but it is less judgmental toward 'right & wrong' and more objective or realist/objective toward 'cause & consequence'. He concludes that Sustainability eclipses Preservation, that Preservation is defensive and that Sustainability is a behaviour and an action.
Interested in intelligently interrupting the existing workflows, logistics and practices to demonstrate an additional benefit or outcome that would not have otherwise been, Chris states that this is the same method of using design or intelligence to approach a challenge, but with the sub-brief of what other benefits can be achieved with more effort in the thinking stages.
His installation 'The Pen is Mightier than the Sword, a made to scale replica of Nelson Mandela's Robben Island jail cell, made from the original Robben Island Fence. The Pen is an arresting sight and it moves people to see the physical size of the space where Nelson Mandela spent 18 years of his life.
The fence was in the process of being discarded as part of the UNESCO world Heritage Site's upgrade in preparation for the 2010 Fifa World Cup. On rescuing and re-purposing the fence, the artist had this to say: 'One man's junk is another's treasure. In nature, there is no waste. Everything is part of a greater cycle. But if there is an over- arching message, I wish it to be that there is potential in everything if you're willing to look for it and invest in it.'
According to the artist, 'the teasing between the two kinds of 'Pen' in the title vacillates between the power of the written word and the penitentiary. On a visual level, the work really
comes to life in a backdrop of greatest darkness, much like Mandela and the emergence of our Rainbow Nation. '
Rather than a tragic symbol of incarceration, Chris sees the Pen as an incubator which gave birth to the dream of a new democracy. And herein the power of the artist's unique vision to inform, shift and change perceptions and therefore reality in that the fence then becomes a story of overcoming, of transformation, a journey from symbol of oppression to tool for healing, akin to South Africa's own journey of the transmutation of our pain into wisdom and shared compassion -Transcendence.
Written by Natalie Becker Aakervik for Thought Leader Global
Booking
---
Agency www.riact.co.za
Email chris@riact.co.za